We are constantly developing new features to improve our Enterprise Search solution. The new features are intended to help you search your documents, emails, databases and much more faster and easier.
searchIT 2.5 - Even More Features
Website-Integration (PlugIn)
With the website integration, it is now possible to use the enterprise search engine searchIT as a search on multisite websites. The search can be integrated individually on a special search page, but also on existing pages in the form of a small search field. Depending on the configuration, the filter options known from searchIT are available for the website search. Predefined area filters can be used to determine which data should be taken into account when searching on the respective website.

Anonymous Login
In order to be able to release certain documents to users without their own user account, we enable anonymous login with searchIT version 2.5. For example, municipalities can make documents such as applications or other data available to their citizens in the form of a citizen service.
Theme-extraction, Tag-Cloud
Using artificial intelligence, searchIT manages to extract the topics from the data to be searched. In addition to the previously available filter options, search results can now be filtered according to their content. In order to be able to present the topics optimally, a new view has been integrated. Keywords relevant to the content are displayed in the tag cloud; the frequency of the topic is visualized through the color and font size of the word.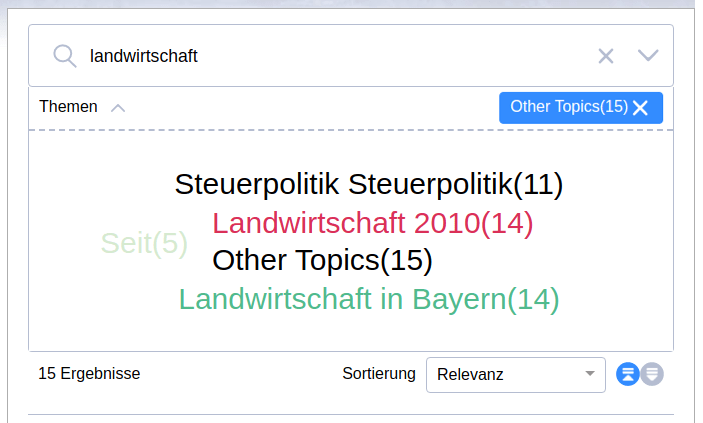 PDF Preview Documents
In addition to a simple text preview, the improved document preview lets you view the first pages of a document in the original layout as an automatically generated PDF. You can now switch between text, PDF and metadata previews using our new document preview.
Tag-Handling
In order to enable public (visible for all co-workers) and private tagging of documents, we included "Tag-Handling" in the new version of searchIT. Assigning tags, which can also include hierarchies, to the documents allows the user to search and filter the results from searchIT with these tags.
By clicking the

Symbol, a new tag can be assigned to the document.
If a document is allready assigned with a tag, the tag can be seen in the chosen color right under the name and path of the document.

By clicking on the tag icon

in the module-bar on the left side, all existing public and private tags including there meta-data can be seen. 

With the graphic search filters the results of every search can be filtered for the assigned tags. A double klick on a tag in the filter, shows which tags are available "deeper" in the hierarchy.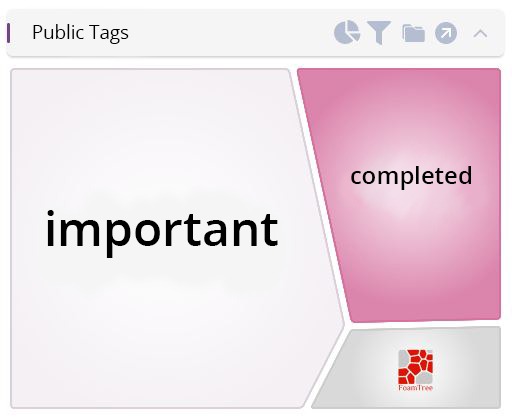 New Time-Filter
The new updated time-filter provides an even quicker filtering for a specific timespan.
With the quick-selection the results can be limited to a timespan ending by the current day with only one click.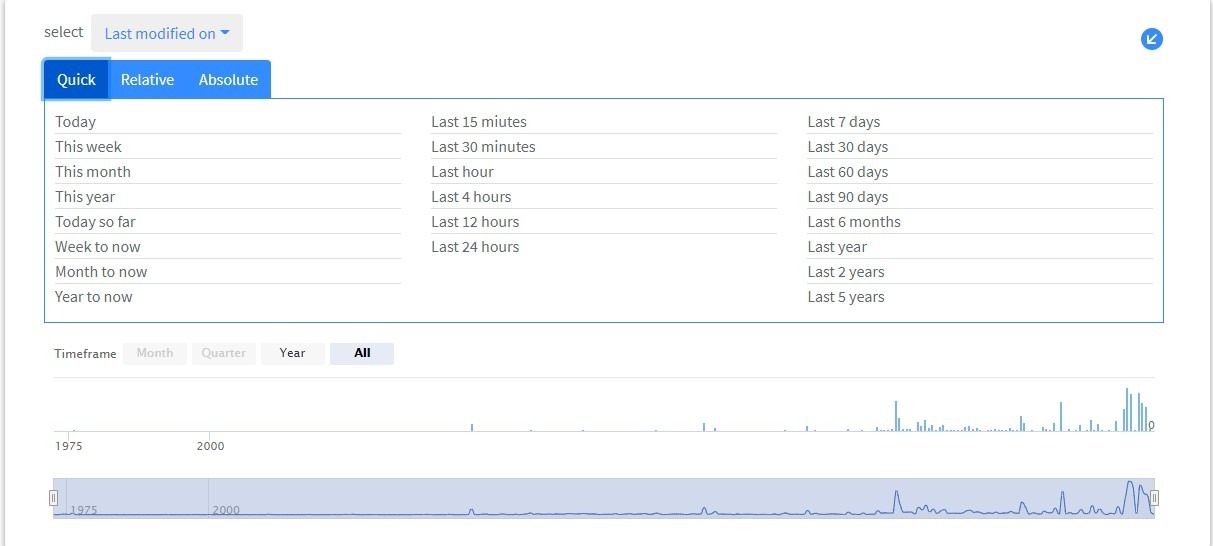 The relative selection sets the timespan depending on the current date.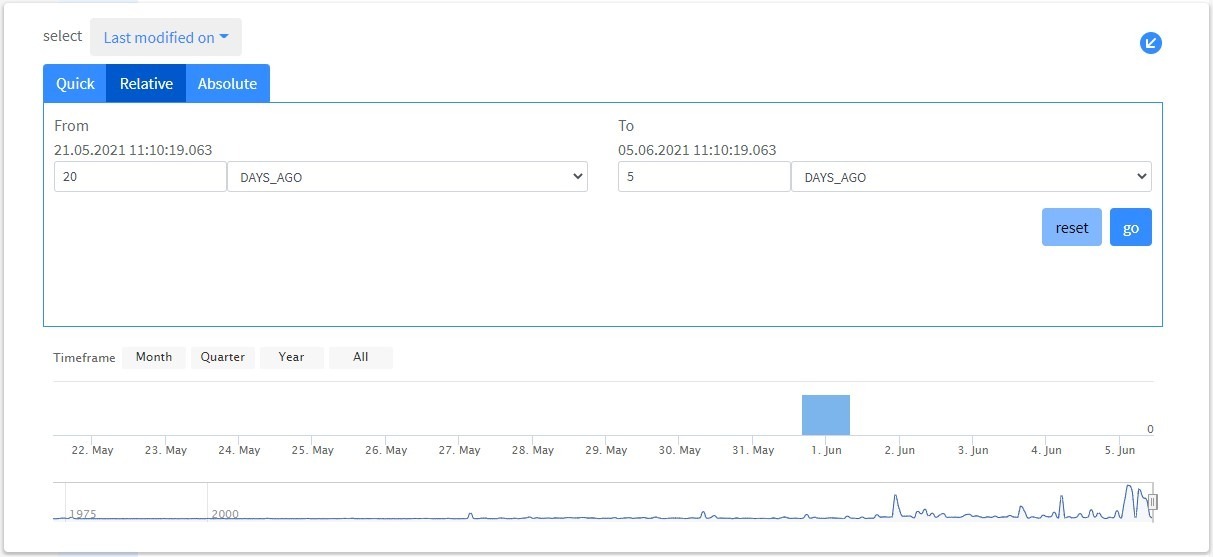 In the absolute selection the start and end of the timspan can be chosen.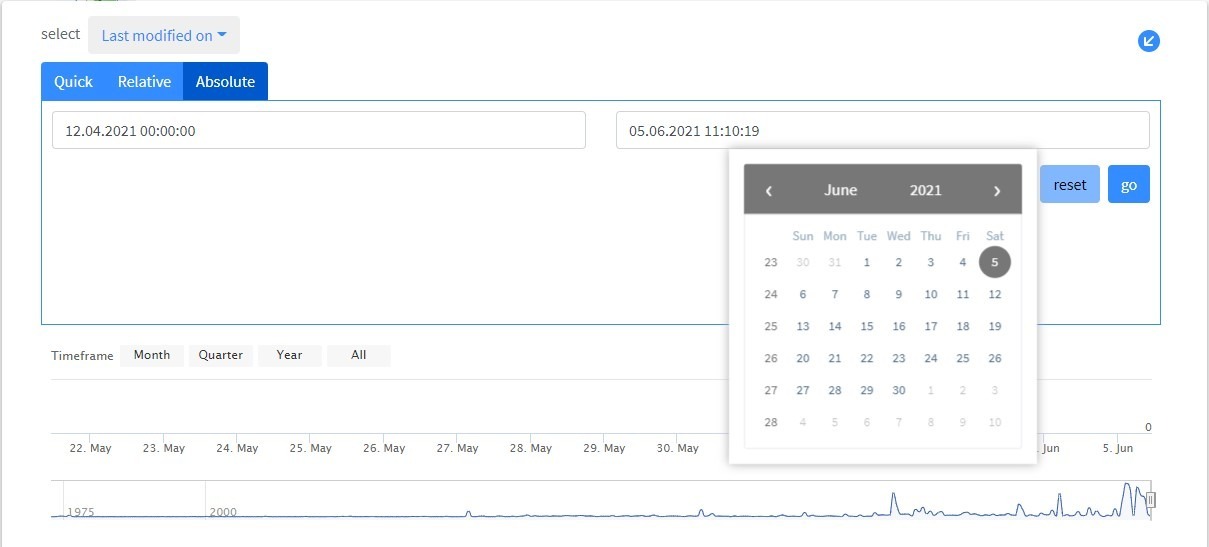 Over the selection-methods the timedimension in consideration can be chosen.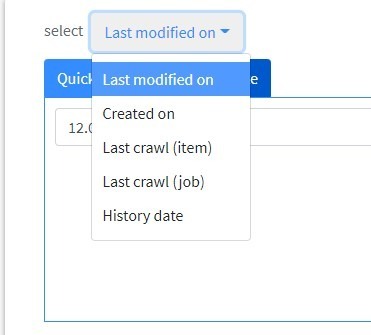 Optimization of the Search Algorithm
The search algorithm is constantly being improved upon. Multiselect, umlauts, etc. are among the optimizations of version 2.3.
searchIT 2.3
Release Date: September 2020
Search in Document Sections
To search very long documents such as books with many individual pages more precisely, we have introduced the "document section search". Endless scrolling is now a thing of the past, even if the instance you are looking for is in the very last chapter of a book, for example. Long documents are therefore subdivided into individual blocks (document areas, e.g. 10 pages each).
Document sections are marked with the icon
. Documents that have been subdivided into document sections are called "main documents" and are identified by this  icon
.
A click on the main documents icon will start a "look-up search" with all document areas of said main document being displayed.
The option filters can be used to filter either document areas or main documents.
Field Suggestions
To perform a search in certain fields (e.g. in the file name), a list of field suggestions can be loaded by pressing the TAB key while in the search field. Then, simply select any field suggestion with the cursor keys or the mouse pointer. Here are a few examples: There are superordinated fields that are in the namespace "all. *", such as all.filename or all.author. There are also type-dependent fields, such as email.cc, contact.company or doc.description
Integration of the File Search Preview
Optimization of the Search Algorithm
The search algorithm is constantly being improved upon. Multiselect, umlauts, etc. are among the optimizations of version 2.3.
searchIT 2.1 - Optimization & New Features
Keycloak Integration
The integration of the identity management software Keycloak has resulted in a multitude of new possibilities for secure authentication:
Single Sign-On (SSO) via OpenID or SAML with internal third-party systems
SSO with systems based on external providers such as Google, Facebook, Twitter, Github or Nextcloud
Alternative authentication methods such as "Integrated Windows authentication"
Connection to external directory services such as Active Directory (AD), OpenLDAP, Novell
If necessary, independent user administration (without Active Directory, etc.)
Block Extraction for Large Documents
By implementing this feature, large documents (such as product catalogs, books, publications, etc.) can now be divided into blocks (e.g. 10-page blocks). These blocks can be searched separately from the main document, which enables a faster display.
The preview has also been expanded and now enables the targeted viewing of blocks and scrolling through these smaller units.
New Connector (PST)
By integrating a PST connector, searchIT can now also index and search through PST archives.
Optimized Log Rotation
searchIT 2.1 now also has better control of the log rotation of log files.
Performance Optimization
By distributing the crawler (for indexing the data) over several nodes, further performance improvements have been achieved.
Optimization of the Backup Processes
searchIT 2.0 - Major Release
Release Date: February 2020
Business Intelligence
Analyze and visualize your business data with searchIT 2020. Easy & without problems.
Search Engine Administration
Save time and nerves by directly managing your settings in your search engine.
Build Data Archives
Use the special archiving functions to professionally build comprehensive data archives. 
Language Recognition
searchIT 2020 recognizes the language of your documents, lets you filter them, and marks them for you.
Explorer View
Browse through the files in your search engine results like you do in your operating system.
Bookmarks
Bookmarks for searches and results let you continue where you left off.
Content Preview
Access your information without detours. searchIT 2020 not only displays content snippets, but gives  you a full content preview of your files with just one click. 
Meta & Special Searches
Search not only for text content, but also for meta information stored within your files. 
Auto Widget Filter
Your widgets will adjust automatically according to the search and chosen view. 
Extended Syntax
searchIT 2020 lets you use extended syntax and special searches to find what you are looking for.
Many Connectors
searchIT offers a variety of searchable sources in the basic version.
Emails & Appointments
Search your Exchange server / Outlook emails.
Fileservers
With the seamless integration of your file servers, you have all files at your disposal.
Google News
A connection to online sources, such as Google News, enables news monitoring.
JDBC Databases
Keep on top of things with Java database connections.
Jira
Search projects and information within the project management tool Jira.
Contact
We provide all-encompassing service and a high end enterprise search appliance. Get in touch.